Spyderkeys - Also Known as Hummingbirds - Made in the early 1990's they are still the smallest locking Spyderco folder
Photgraphed pearched on a standard beer bottle cap to illustrate how small they are..
Click a picture to see a larger view. | Or Here to Return to Paul's Home Page

---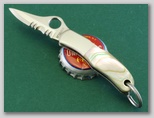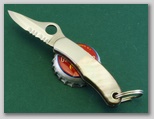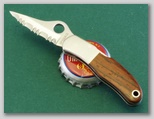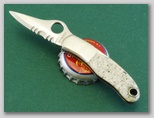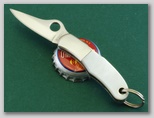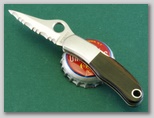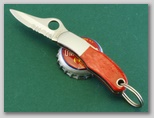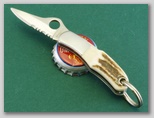 ---
In addition to the eight versions currently in my collection, the regular Spyderkey was also available in plain
stainless steel. There was also a tie clip version, offered in stainless steel, abalone, and stag.
Some time back, Joyce Laituri of Spyderco provided this list of Spyderkey and Mini-Mariner Variants and their 1991 MSRP
3002A Abalone MSRP $64.95

3002ATC Abalone Tie Clip MSRP $48.95

3002B Black Lip Pearl Oyster MSRP $64.95

3002C Corianne (white/grey speckled) MSRP $51.95

3002P Mother of Pearl MSRP $64.95

3002Q Quince MSRP $44.95

3002RB Red Bone MSRP $50.95

3002S Stag MSRP $59.95

3002SS Stainless Steel MSRP $37.95

3002STC Stag Tie Clip MSRP $51.95

3002 Tie Clip (stainless steel) MSRP $39.95

3002W Cocobolo MSRP $48.95

Mini Mariners: All had sheepsfoot, non-locking blades that are approx. 1/2". This thing is TINY.

3001A Abalone necklace W/ chain MSRP $49.95

3001SS Stainless MSRP $43.95