C35 "Q" and C67 "R"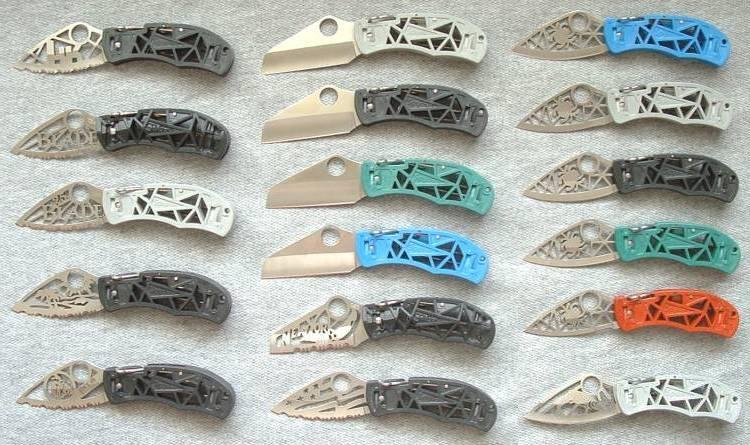 The C35 "Q" came in several colors, blade types, and edge styles. While it is best known for its laser cut blade, there are also some "solid" ones. Black is the most common color and grey the next most common, but still fairly rare compared with black, the other three colors are all rare. There are quite a few other designs as well, my collection is pretty modest compared with some, but it does show the colors, the "regular" and "rescue" blade styles, and the older, thicker, "3D" handle (on the NY and black Blade Magazine ones). Many patterns were available only serrated, but a few came in plain edge as well. The Q was introduced in 1996, appears in my 1998 catalog, but not my 2000 one, so would assume they were "retired" in either 1999 or 2000.
Left row, top to bottom:
Heckler & Koch
Blade Magazine
Blade Magazine 25th Anniversary
"Tropical"/1998 S.H.O.T Show
P.R.C.A. (Profession Rodeo Cowboys Assn.)
Center, top to bottom:
4 knife, solid blade, plain edge, "Color Rescue" set
New York Knife Show - marked 1996
American Flag
Right row, top to bottom:
5 knife plain edge "Spider" "Color" set
Grey, plain edge, Jumping Fish - I believe this one is referred to as "Fred Meyers"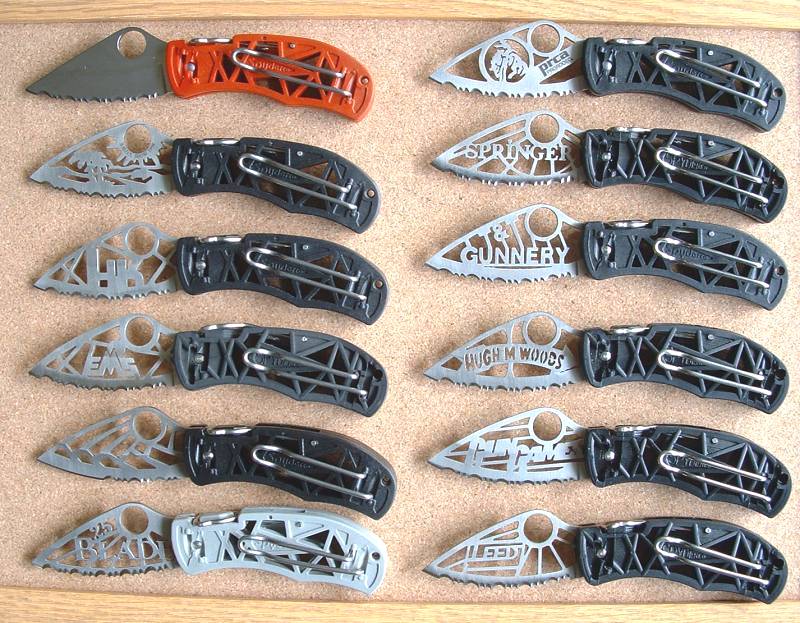 Recently had the opportunity to acquire the group of Qs shown above, and jumped on it. Although several are fairly common, a few duplicate knives I already had, there were just too many I did not have, including a few uncommon ones and one I had never seen, or even seen desribed, before.
| | |
| --- | --- |
| Left row, top to bottom: | Right row, top to bottom: |
| | |
| Solid serrated Blade, Red Handle | P.R.C.A. (Profession Rodeo Cowboys Assn.) |
| "Tropical"/1998 S.H.O.T Show | Springer (European Printer?) |
| Heckler & Koch | T & T Gunnery (Long Island NY gun shop?) |
| E.M.S. - Eastern Mountain Sports | Hugh M. Woods Lumber |
| MOTENG | Gun Games |
| Blade Magazine 25th Anniversary | Leed Tool |
THIS PAGE contains LARGE individual photos and descriptions of all the Q variants show here.
The shot below illustrated the difference in shape and thickness between the original Q and later production models. Of the ones I have, only the New York Knife Show and black Blade Magazine are "1st generation". The later version also has a pin added to retain the Q's unconventional combination lockbar and lockspring. This pin is present on all my "2nd Generation" Qs, but is less noticeable on some than on others.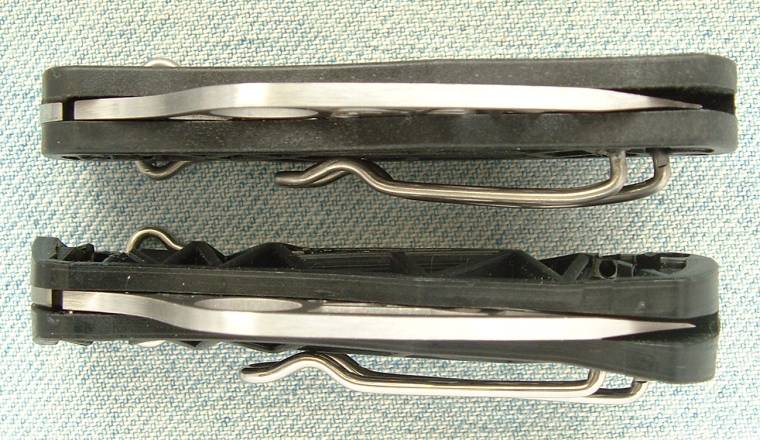 Perhaps better than any other, and certainly better than any of the others in my collection, the PRCA Pro Rodeo Q illustrates how intricate a design can be laser cut. The frontmost thin vertical cut is barely wider that the thickness of a the cardboard from a box of cereal. A straight pin cannot pass through the hole representing the horse's eye. Like some of the others, it features laser engraving in addition to the laser cut design. Not the rarest of Qs by a long shot, but interesting none the less.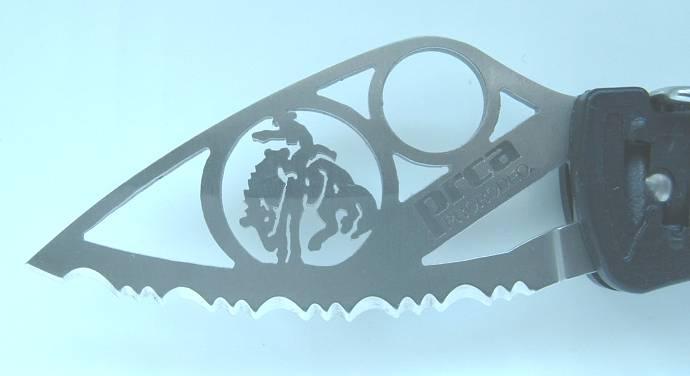 In comparison with the Q, which although both fascinating and technically excellent, comes off looking almost toy like by virtue of its wire combination lock and lock-spring, screw-less wire clip, and very small pivot pin, the R, with its black almite coated aluminum handles, standard Spyderco front lock, and regular style flat steel clip, screams quality all the way. It's a fine collector's piece, but since I first saw one, I have felt that a really excellent design was, in a way, wasted by incorporating features that were almost guaranteed to cause early retirement. This feeling was vindicated by Spyderco's release of the "R2". While it still incorporates the aluminum trusswork handle, the blade on the "R2" is solid, making it much more suitable for actual use. It also has a slightly blunter tip.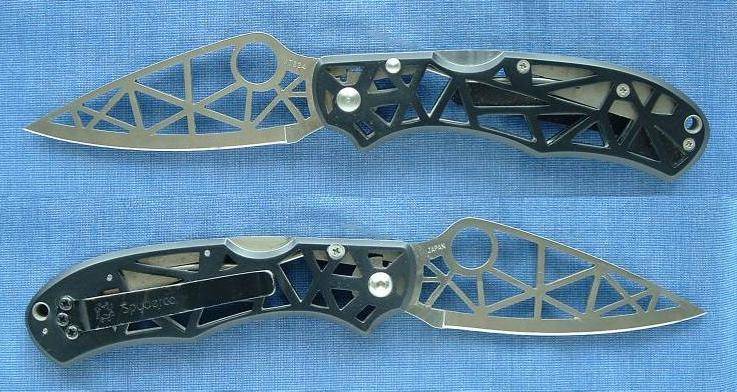 The new R2, shown here in both serrated and plain edge, along with the original version in plain edge. Interestingly, the additional weight of the solid blade is not as noticeable as I thought it might be. The greater practicality of a solid blade makes it a worthwhile improvement from the "user" standpoint.