How to Exclude an Ebay Seller From a Saved Search
Click Here to Return to SPY-101 Menu Page
By popular demand, here's a pictorial demonstration of how to create an eBay "Favorite Search" that excludes one or more seller's whose auctions you wish not to see. Might be they list tons of knives you have no interest in, or they keyword spam like crazy, or they just annoy you in some other way.
Before you set up your new search, you should note the exact eBay user name(s) of the seller, or sellers, you wish to exclude. You can write them on a piece of paper, or type them into Notepad or some other text editor, or capture them with SnagIt Notes or a similar program.
Once you have your list, log onto eBay and go to your My eBay Page. Once there, click on the Advanced Search link, as shown below...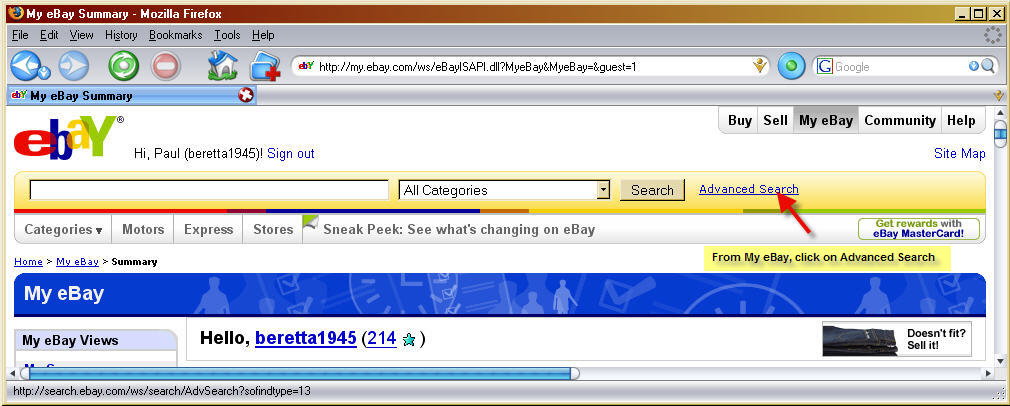 This screen will appear. Enter "Spyderco" in the "Keyword" box, and be sure you check the two checkboxes highlighted in the screen shot below.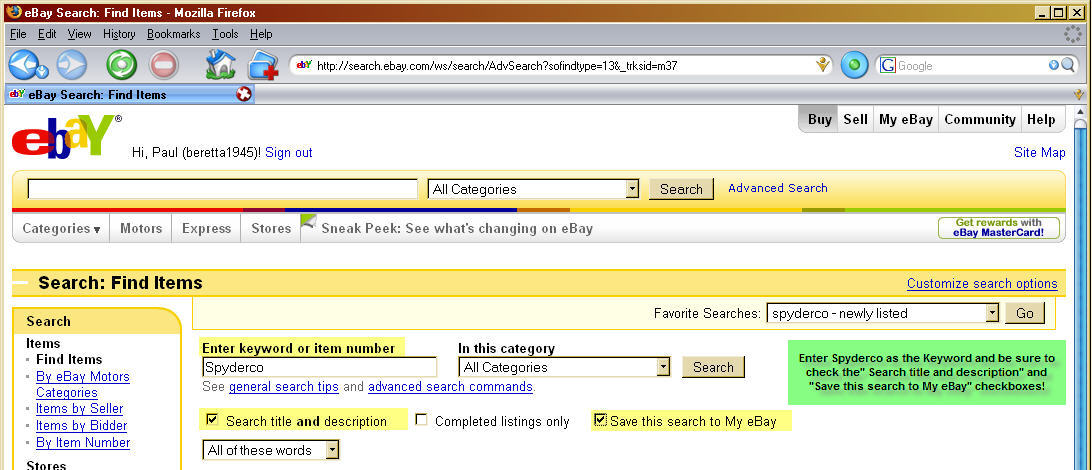 Now the fun begins, click on the radio button for "From specific sellers" then click on the LIST button below it, and select "Exclude" from the drop down list that appears.

Get your list of the sellers you wish to block an type their user names in. If there is more than one, separate them with either a comma, or a space.
I set my searches up so I can see all items available to the US, regardless of where they are located, but you may wish to do otherwise.
I would definitely leave the "Items within NN miles box unchecked.

I suggest leaving all the "Show Only" checkboxes unchecked to start. You can EDIT the list later.
I set my primary search up to show Newly Listed first, that way, when I do my daily check, I only need to check out the items that were listed since the last time I checked the list.
Once that's done, click on the "Search" button...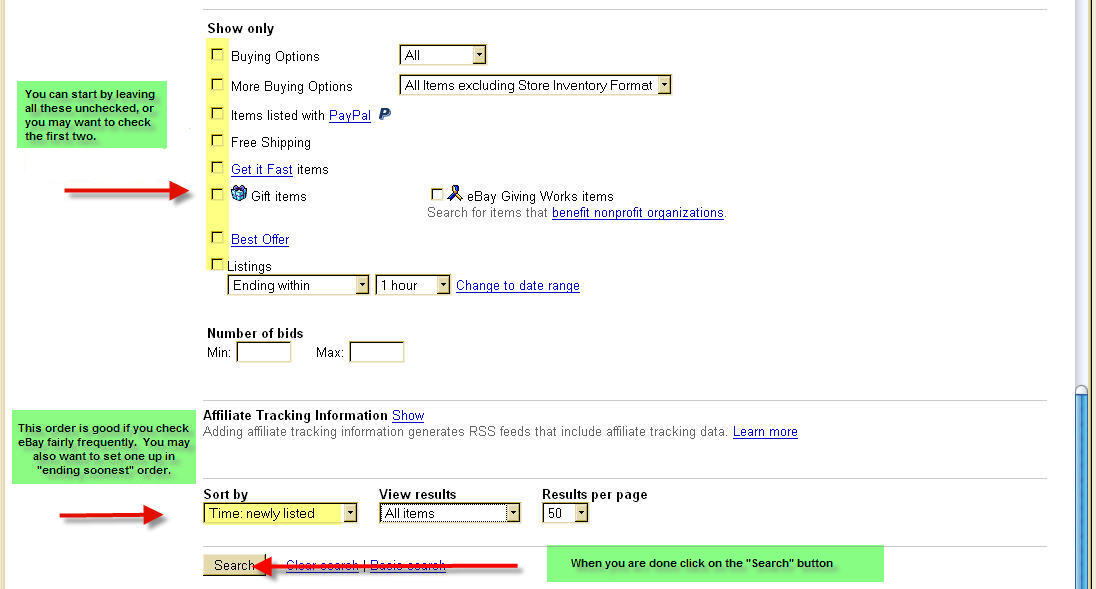 The "Search" page will appear, with the "Save As Favorite Search" window superimposed on it. You can leave the default search name of "Spyderco" or add additional information, if you wish.
Be VERY, VERY, VERY sure to uncheck the "send emails" checkbox that eBay has checked for you. Otherwise your inbox may be filled to overflowing very quickly.
Once that's done, click on the SAVE button and you're done.
The new search should now appear in your Favorite Searches list. You should not see any listings from the sellers you excluded when you use that search.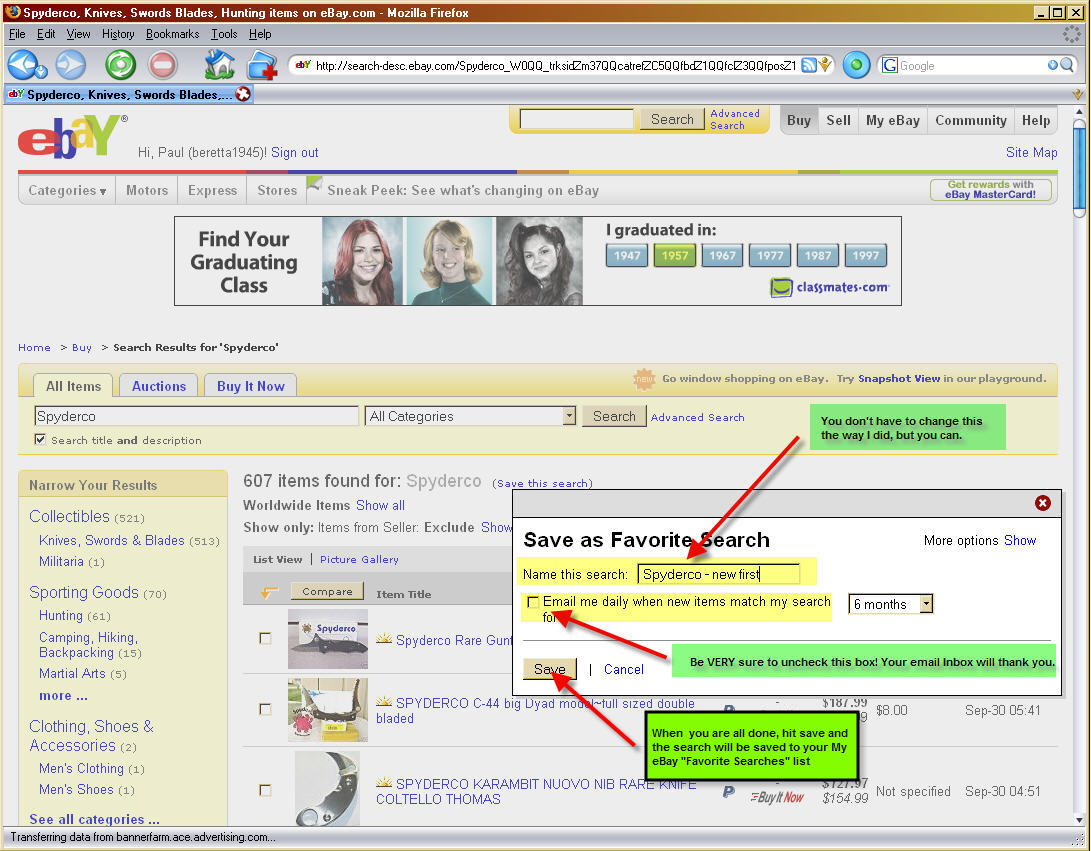 That's all there is to it. Happy Spyder hunting.

Click Here to Return to SPY-101 Menu Page