Kiwis
Above - Entire "flock" as of September 23, 2006
Left row, top to bottom: Birdseye Maple, Malachite, Desert Ironwood, Sambar Stag, Mammoth Ivory, Marcus Hunt Engraved Stainless Steel, Dinosaur Bone, Tiger's Eye, Picasso Marble.
Center row, top to bottom: Denim Lapis, Black Pearl, Mother of Pearl, Gold MOP, Red Coral, Azurite, Orange Spiny Oyster, Charoite, and a Native American "Ladybug" fetish in Apple Coral, Jet, and Turqouise
Right row, top to bottom: Bloodstone, Dinosaur Bone, Petoskey Stone, Mammoth Tooth, Jet, Amber Jigged Bone, Smooth Red Bone (production), Smooth Red Bone (pinned), All Stainless Steel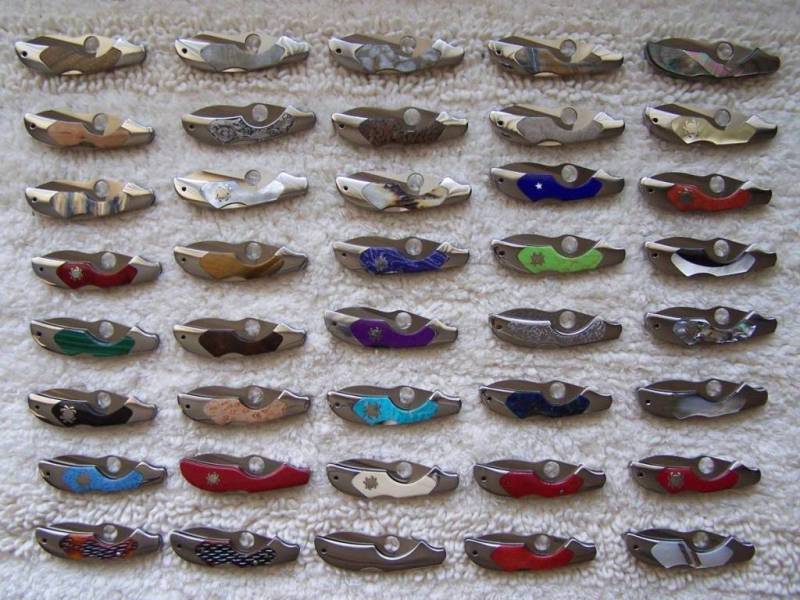 Above - Entire "flock" as of September, 2007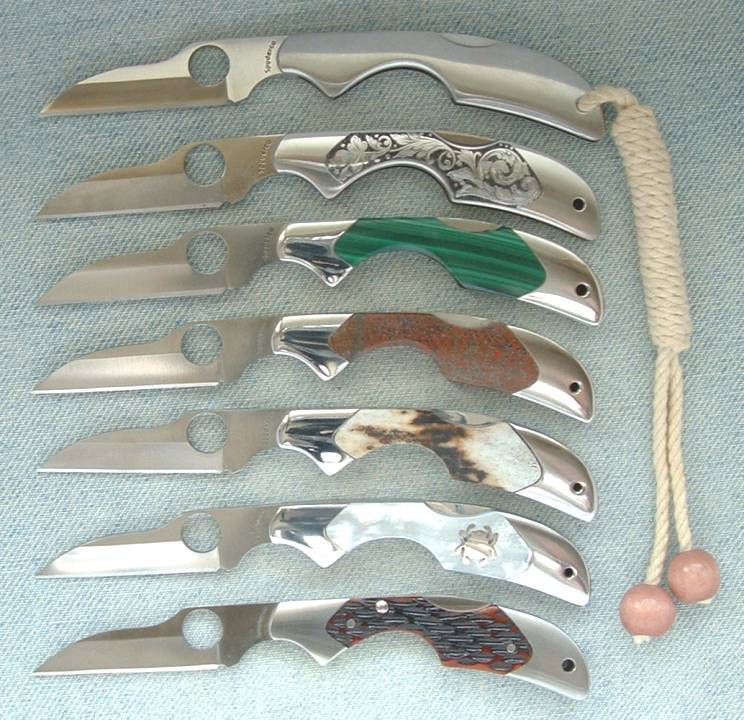 T
This was what the "flock" looked like in March 2005. The Sambar Stag one was the most recent addition.
Top to Bottom
All Stainless - my "computer desk" knife the cotton twine fob helps me find it amid the clutter
All Stainless, Engraved Panels between "Faux" Bolsters, by Marcus Hunt
Malachite by Santa Fe Stoneworks
Dinosaur Bone by Santa Fe Stoneworks
Sambar Stag by Santa Fe Stoneworks
Mother of Pearl with Nickel Siliver Spider by Santa Fe Stoneworks
Jigged Bone - the standard Spyderco bolster & scales version
Although it is hard to tell from the side view, as the top-down shot below illustrates, the all stainless and bolster & scales versions of the Kiwi differ considerably in thickness. It also demonstrates the exceptional "fit and finish" these little knives exhibit. Hard to believe the all stainless can be found for under $50, the jigged bone for well under $100.

The all stainless, while a pleasure to carry as it almost disappears in my pocket, is not easy for me to open. The combination of limited sensation in my fingers, the smooth stainless steel, small size, and that very slimness all contribute to that. My first solution was a fob. While this worked well enough I kept thinking there had to be a more elegant solution. A stainless Delica I had engraved by Marcus Hunt confirmed a suspicion I had that hand engraving would add a considerable amount of "tooth" to a stainless handle. Since I really like the look of the bolster & scales version, and had a number of them, I decided that it would be interesting to use engraving to strengthen the "family resemblance" between the all stainless and bolster & scales version. I felt this could be best achieved by confining the engraving to "scale" shaped panels set off by smooth, bolster shaped, ends. Marcus Hunt's talented mind and hands then took that concept, created an engraving pattern to fit the rather odd shaped "scale" area, and turned my idea into reality.
Marcus Hunt took the pictures below before putting his little masterpiece in the mail.
My jaw hit the keyboard when I saw them.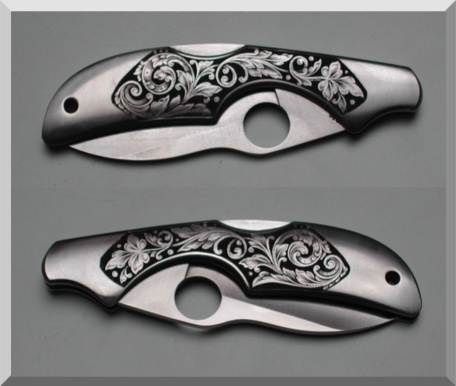 And it dropped again the day the package arrived from Great Britain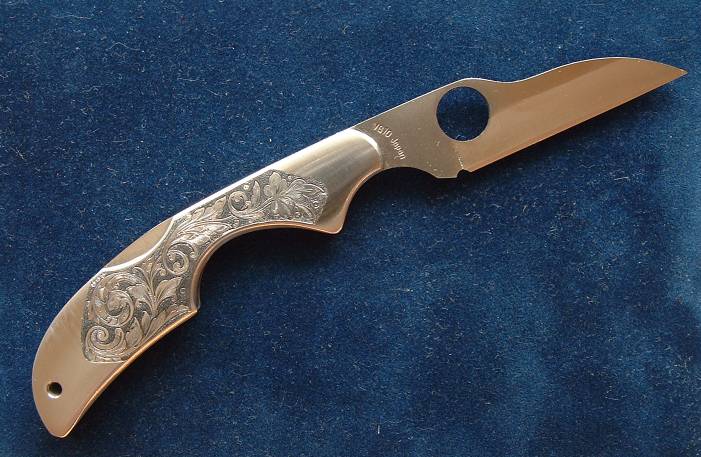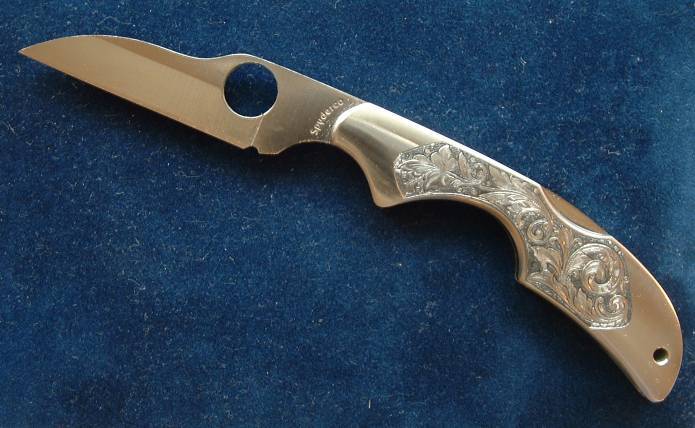 My next "commissioned" Kiwi, and as things have turned out the first of many I would have made by Santa Fe Stonework using scale material which I supplied to them, appears below.
The scales on this one are sambar stag. Early in 2004 Sal mentioned the possibility of stag scaled Kiwi as an AG Russell exclusive. The embargo by India on the export of sambar stag, possibly coupled with the reluctance of Bill Wirtel of Santa Fe Stoneworks to work with stag, kept that "AG Russel Special" from becoming a reality. But I was already "hooked", so while attending the New York Custom Knife Show in November, I picked up a pair of stag slabs, twisted Bill Wirtel's arm a bit, sent them off to Santa Fe, in January, 2005 and received this in return about two months later. From that day to this, it has remained one of my favorite Kiwis to carry.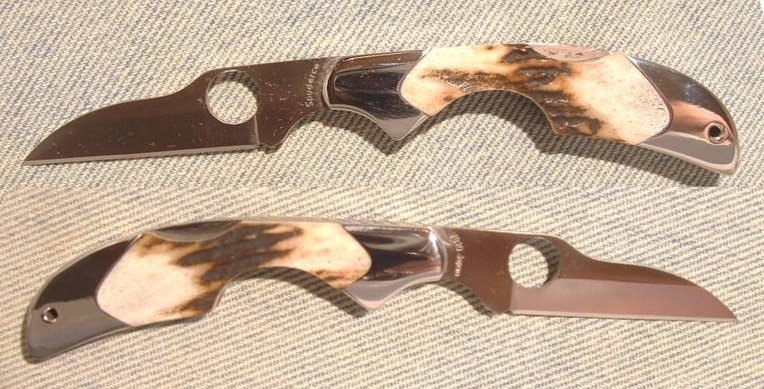 Next to join the flock was this Santa Fe Stonework Kiwi, in Red Coral, purchased from New Graham Knives in April of 2005.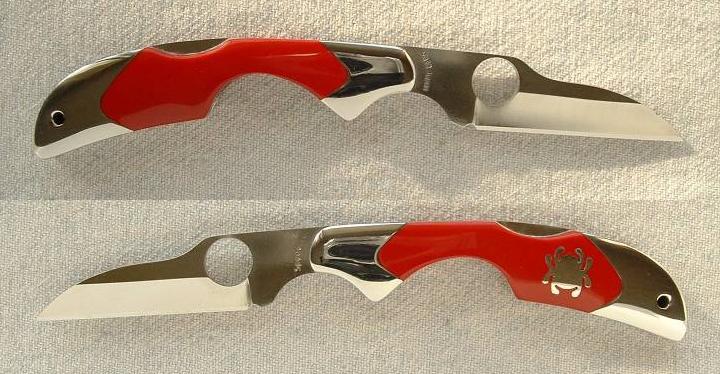 The next addition to my "flock", yet another little beauty from Bill Wirtel and the gang at Santa Fe Stoneworks, appears below. It arrived in April of 2005 and features a fossilized coral rock called "Petoskey Stone", named after a town in northern Michigan where it is found in abundance. The stone, which I supplied, brings back childhood memories of summer vacations in that area. Of all my Kiwis, it is the least practical, as Petosky Stone is extremely soft and quite porous. I knew that before I had it made. but still wanted it for the reason I mentioned earlier. One day I will find someone to stabilize a slab of it, and have another one made which will be more suitable for use.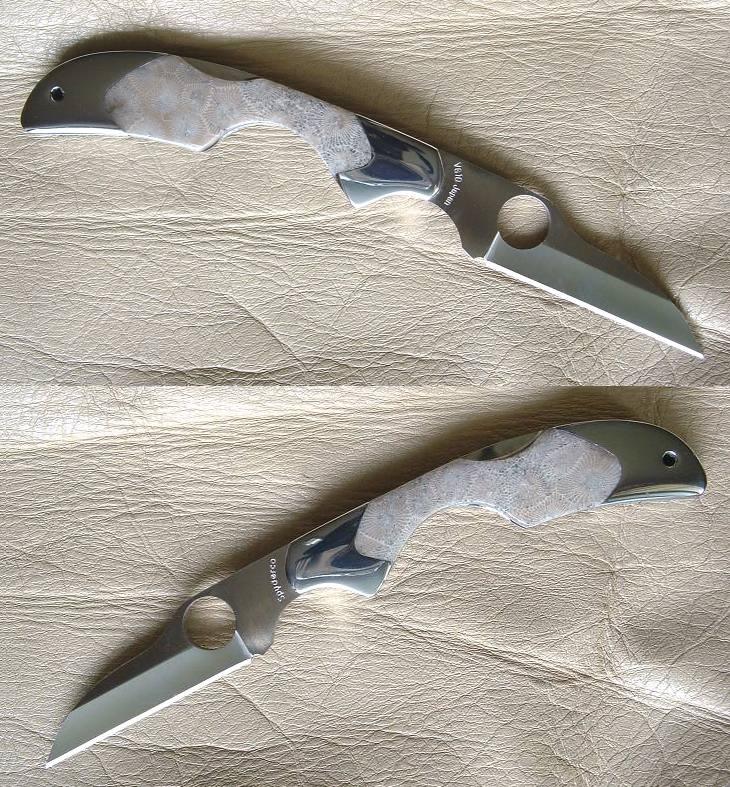 Several more Kiwis joined the "flock" in June of 2005. The first of them, and my second one from Santa Fe Stoneworks in Dinosaur Bone, was irresistible because of its fantastic "tree bark camo" look. This was purchased from a fellow Spyderco collector. The next is a black lip pearl, from AG Russell, and one of the two handle materials which did become "AG Russell Specials". As with all mother of pearl, photos really don't do it justice, as Its colors shift with every change in light. The third is yet another jigged bone, purchased in an eBay auction. I could not resist the price on this one, and the bone has rather nice color.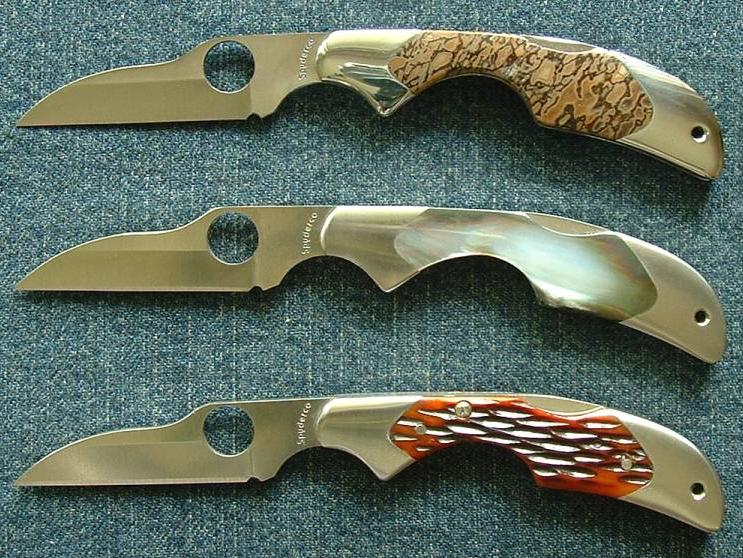 This one joined the flock on 6/29/2005 - Blue Denim Stone courtesy of SFSW, another eBay auction "win".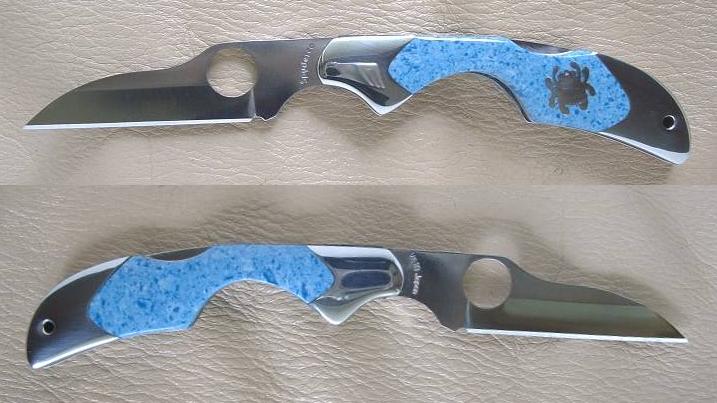 This one arrived 7/15/2005. The scales are stabilized Birdseye Maple, which I purchased from Chuck Bybee at Alpha Knife Supply. It was skillfully mounted by Bill's crew at Santa Fe Stone. Think Chuck thought me a bit daft for "wasting" a really nicely figured set of slabs on such a small knife, but the end result was worth the cost to me. Later, the "leftovers" from this project provided material for a second Santa Fe Kiwi I had made as a gift for a friend, and for an Atlantic Salt I had customized by Steve Rice.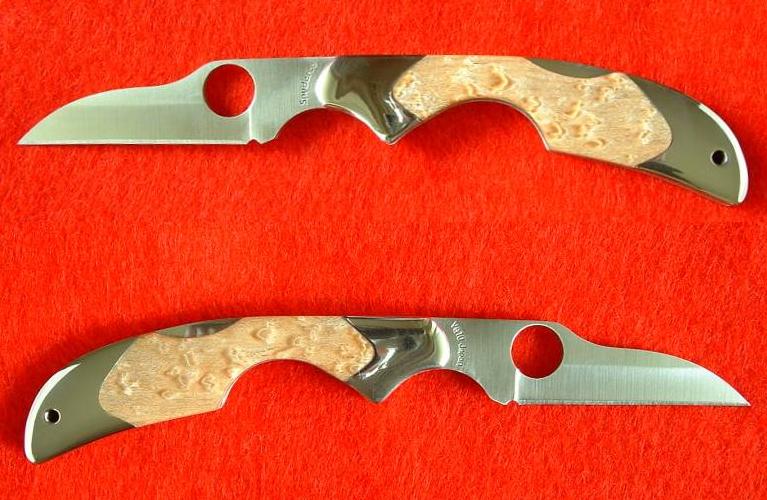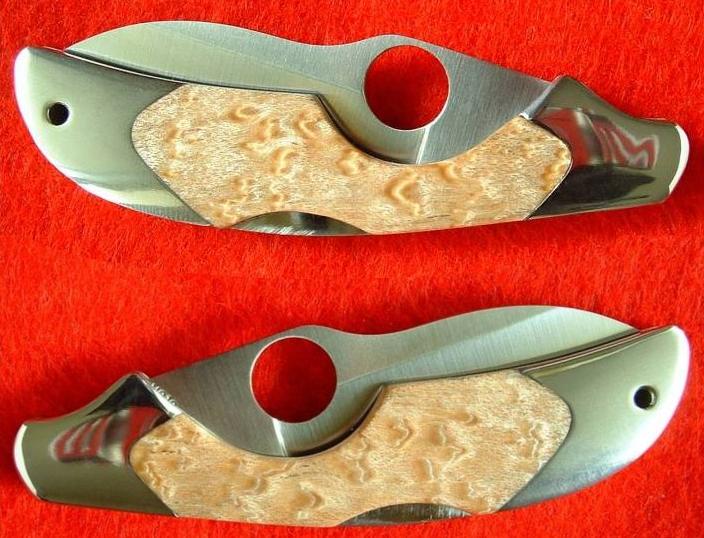 This one arrived directly from Santa Fe Stoneworks on 8/19/2005. Scales are Jet with bug inlay.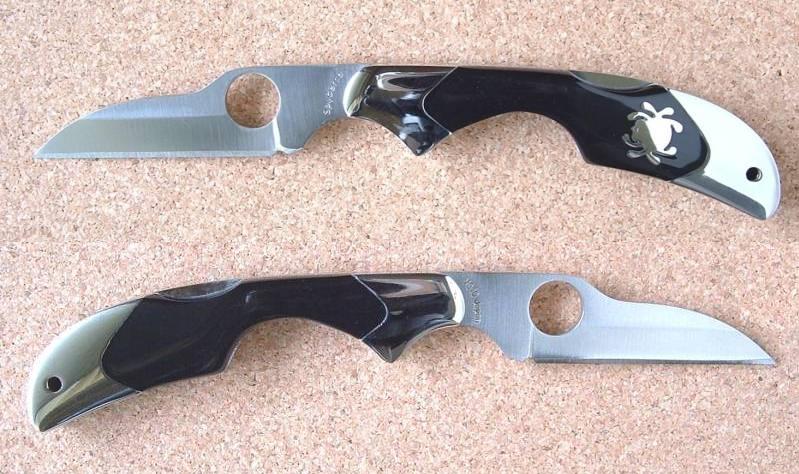 By sheer luck this one arrived from Santa Fe Stoneworks to join the flock on my birthday in 2005! The scales are Rhodonite, which was supplied by me.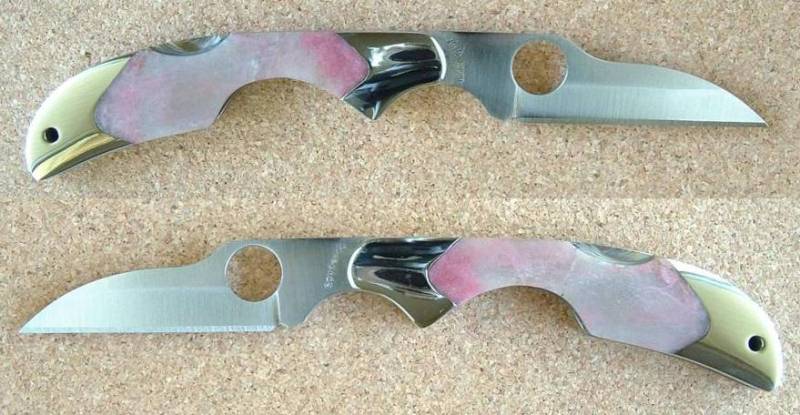 My first Kiwi of 2006. This one is a Santa Fe Stoneworks "stock" design in Gold Pearl. It was yet another eBay purchase and it arrived on Jan 7th. Once again, photographs just don't do the pearl justice.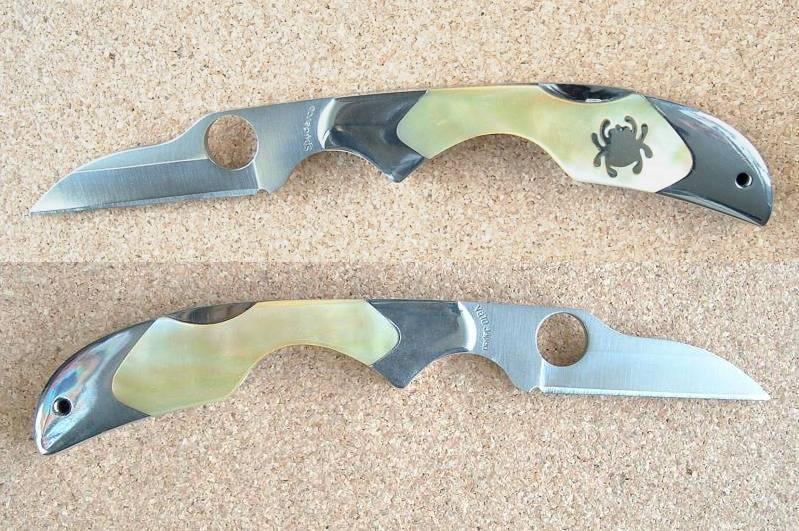 The next addition to the flock was this Santa Fe Stoneworks Kiwi in Azurite, from an eBay auction arrived Feb. 25th, 2006. Nice range of blues and greens in this one.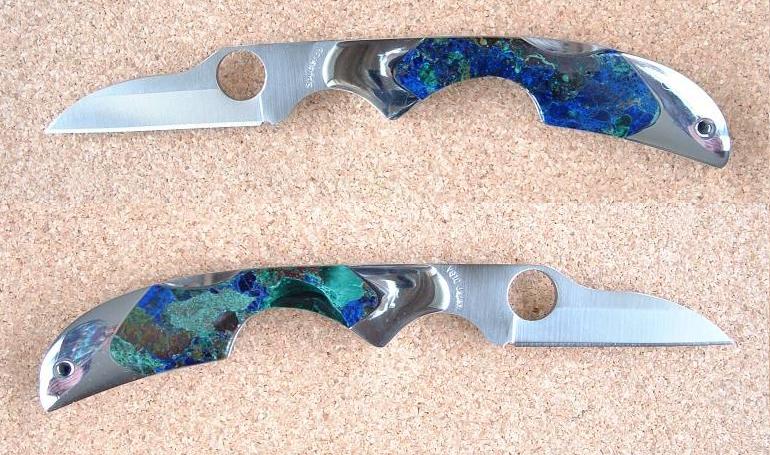 Next addition to the flock, was this custom Santa Fe Stoneworks Kiwi in TigerEye, arrived April 13th 2006. Apparently this stuff is very hard, and thus difficult to work with. Bill asked and received my permission to replace the somewhat thick slab I had supplied with a thinner one from his personal "rock collection". Result is a very striking piece.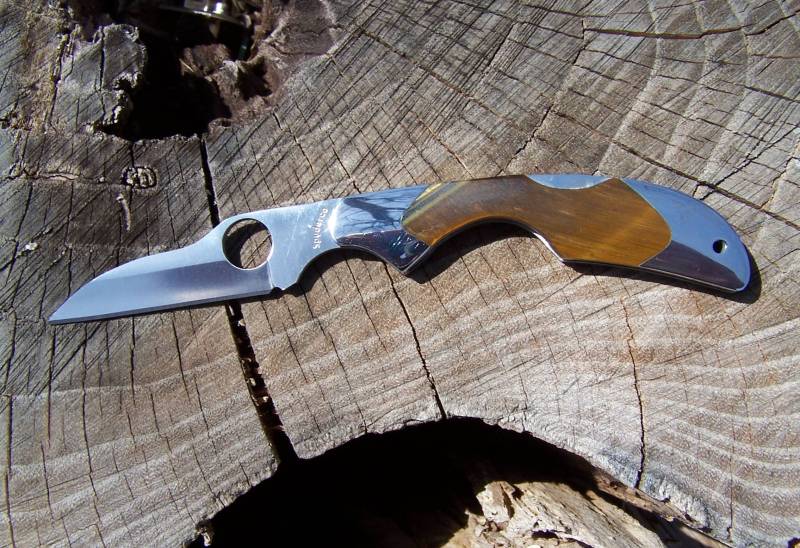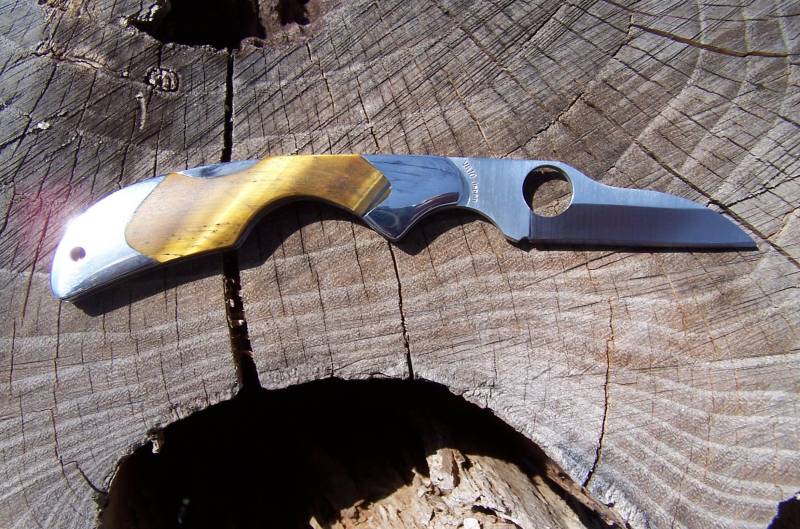 Next addition to the flock, a Santa Fe Stoneworks Kiwi in Orange Spiny Oyster, arrived May 10th, 2006 from an eBay seller. Yet another very striking material, a vibrant orange with lots of depth!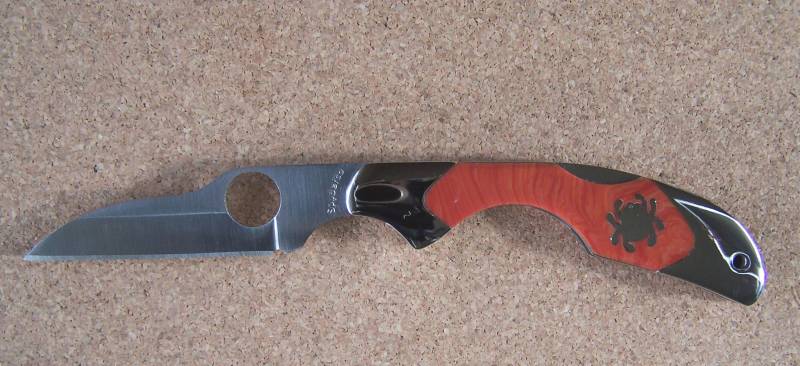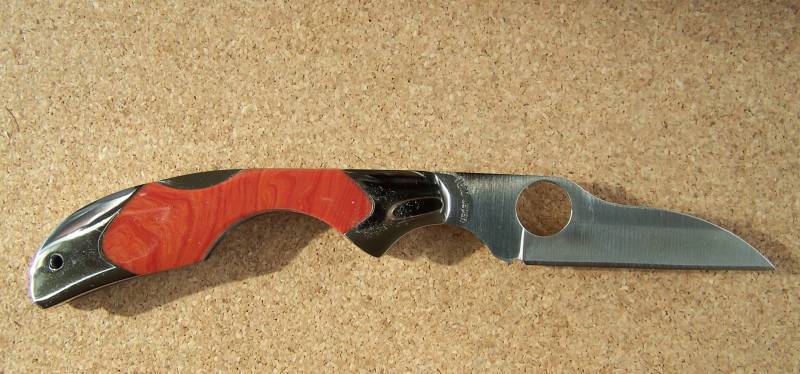 The next additions to the flock, and fraternal twins at that! These two arrived on May 15th, 2006 . Both are Santa Fe Stoneworks custom Kiwis, one in mammoth tooth, the other in mammoth ivory. Both materials were supplied by me. Another great example of the work done by Bill Wirtel and his SFSW crew.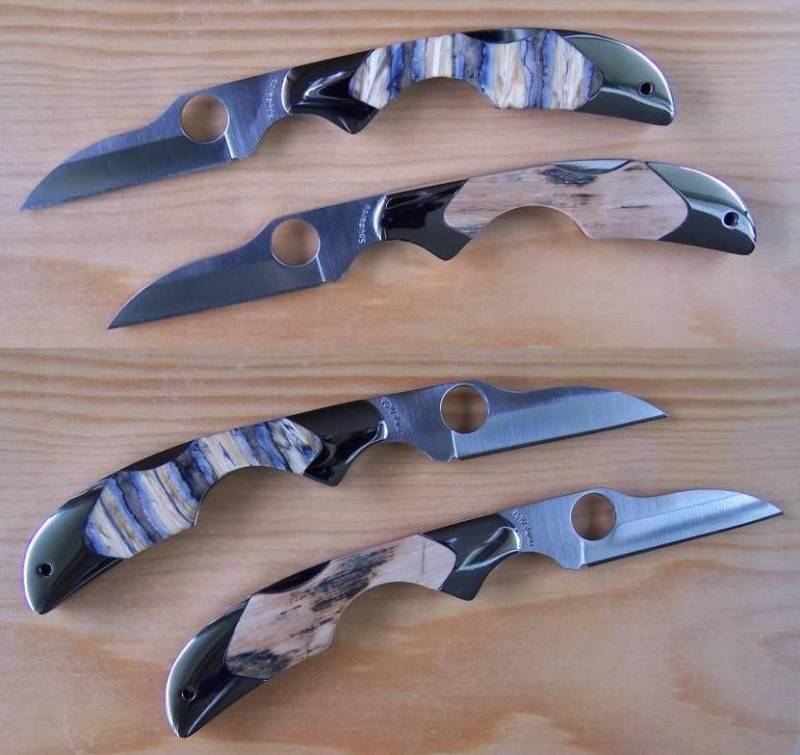 Next addition to the flock was this Santa Fe Stoneworks Kiwi in Desert Ironwood, arrive June 2nd, 2006. Fantastic looking wood, lots of chatoyance and an amazing degree and quality of figure, especially considering the small size of the Kiwi scales.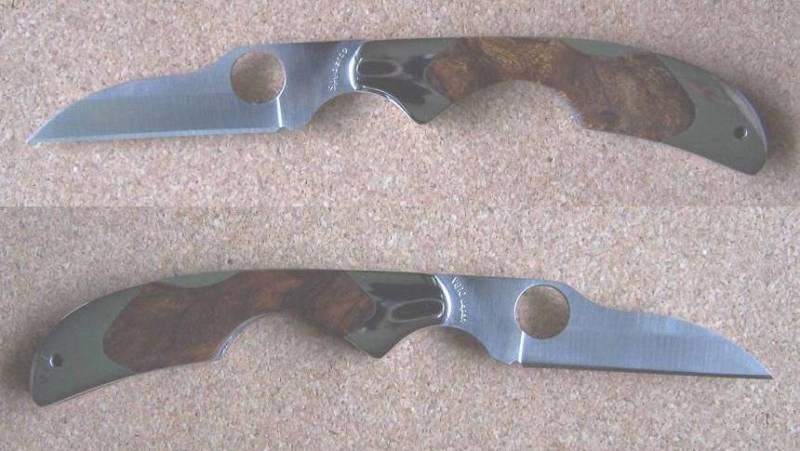 Next addition to the flock was this Santa Fe Stoneworks Kiwi in Charoite. It arrived in mid June, 2006 from New Graham Knives. My camera made it look too blue, so I had to correct the color, causing the purple cast to the blade. One of these days I'll get around to taking some photos of it outdoors, and see if that captures the actual color more accurately.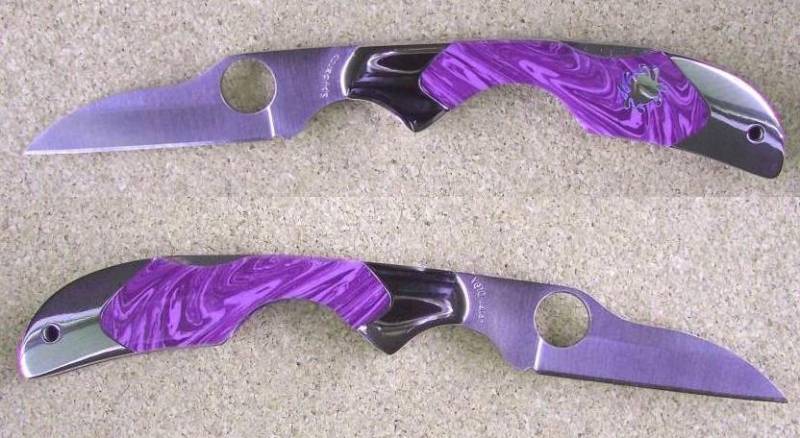 The next addition to the flock was Spyderco's new Smooth Red Bone version of the Kiwi. Released in mid June, 2006, my Collector's Club numbered one arrived from NGK on 6/22. This version replaces the Jigged Bone version, which was discontinued by Spyderco at the beginning of the year.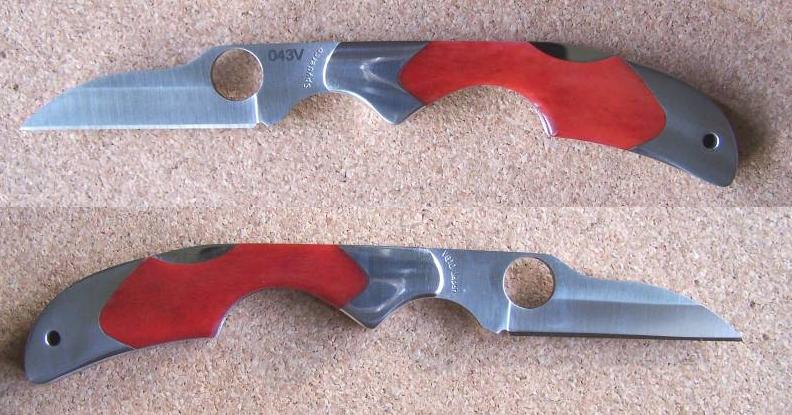 The Kiwi below is special in many ways. First, because it was a gift from Sal Glesser, and again because it arrived very unexpectedly. Finally, because it is a variant of Spyderco's new Smooth Red Bone version of the Kiwi which, unlike the production knives, has pinned scales and an exposed lockbar pivot pin. According to Sal, there are only around a dozen of these in existence and there is little to no chance of more being made.


Next addition to the flock is another Santa Fe Kiwi, this one in Bloodstone. It arrived 7/15/2006 from NGK.


Next to arrive, in early September 2006, was this older amber jigged bone "stock" Kiwi. I really like these better than the later, dark "chestnut" colored jigged bone ones. The color of this one seemed particularly nice when I spotted it on eBay, so "the mad sniper"

struck again.


Next addition to the flock was this very striking Picasso Marble Kiwi, which arrived on September 14th 2006 from Santa Fe Stoneworks. As you can see from the photographs, the scales are very well "book-matched", something you do not often see in stone scaled knives. This Kiwi replaced one purchased in early August from New Graham which, sadly, arrived with badly cracked scales.


This next addition, dressed in really stunning black lip pearl, arrived on November 17th 2006 from Santa Fe Stoneworks, and represents an entirely new style for them. Santa Fe ran out of bolstered Kiwi "mules" and Spyderco will not be able to supply them with more until February. Bill Wirtel decided to experiment by grinding the sides on an all stainless Kiwi flat, then applying "full panel" stone overlays to both sides. The result, while very different from the "traditional" version, is extremely attractive in its own way. I purchased one on eBay back in late September, but it turned out to have a couple defects in the pearl, so the seller took it back, returned it to SFSW, and arranged for them to send it the replacement to me directly. Think Bill cherry picked the pearl for this one, the colors are truly fantastic. There are a couple outdoor shots further down the page that show them off much better than this one.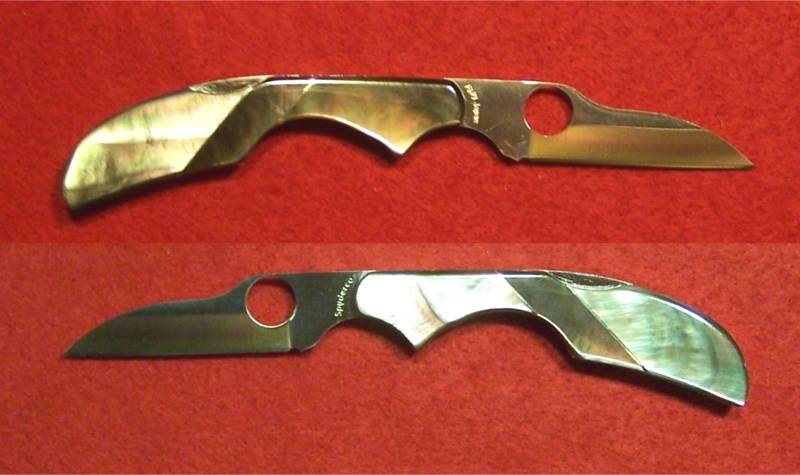 This next addition, another full panel Kiwi, this one in red coral, arrived on November 22nd, 2006 from Santa Fe Stoneworks. Very elegant looking.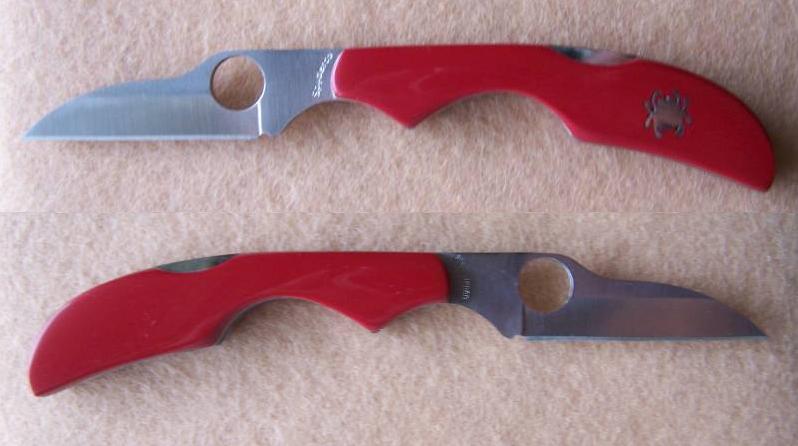 These three shots show the colors of the pearl much better...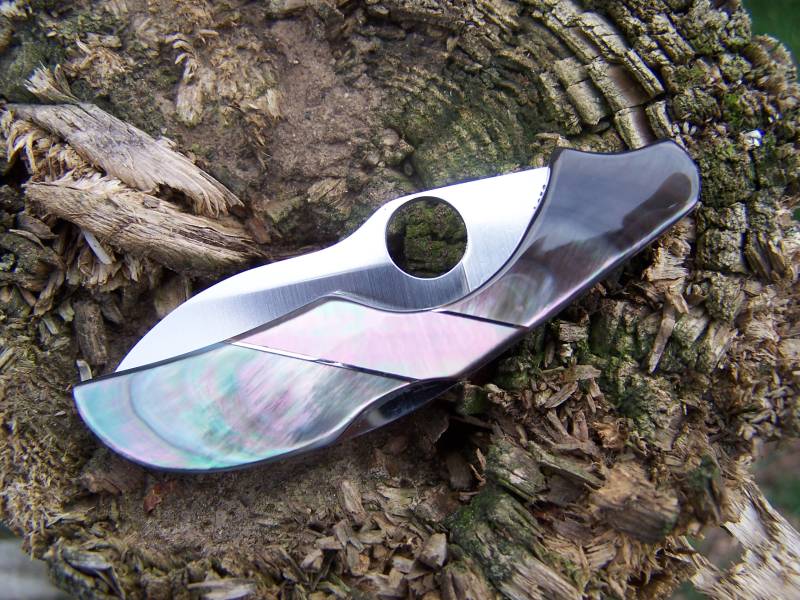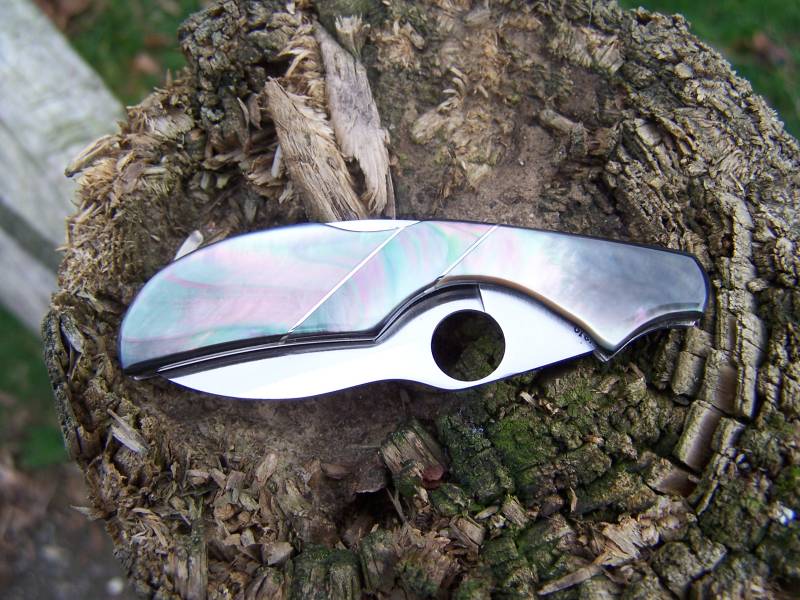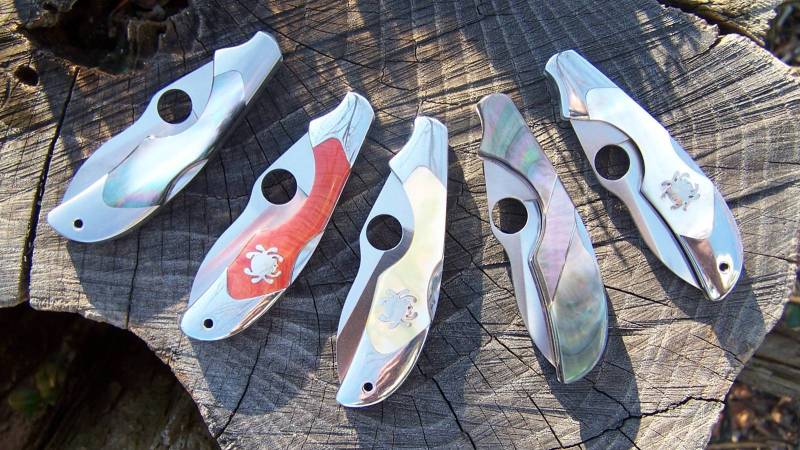 My first example of the new 2007 version of the Kiwi, in Mother of Pearl with Abalone accent stripes, arived on Feb 07 from an eBay seller. Very nice addition to the Kiwi family.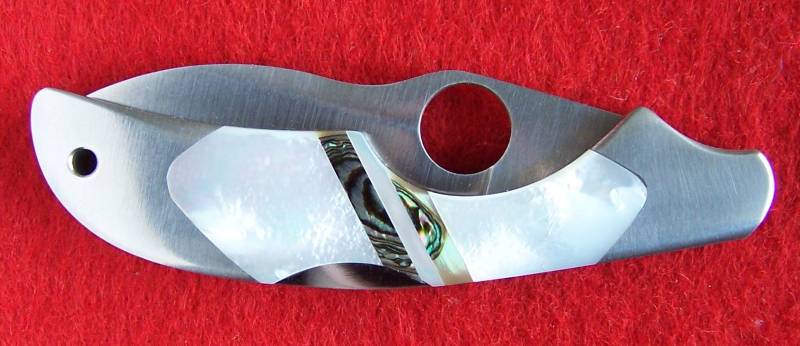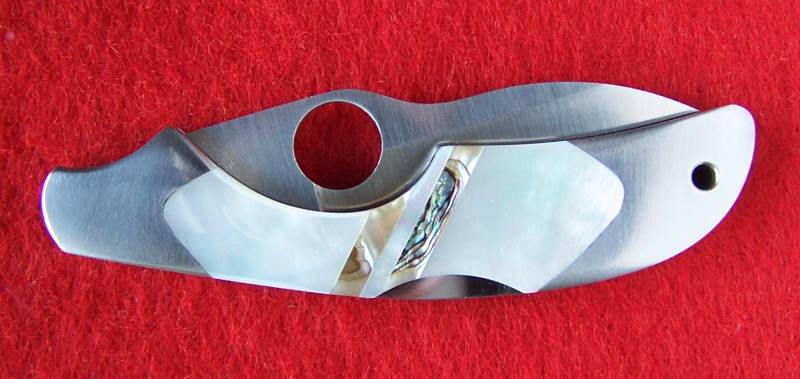 This is Santa Fe Stoneworks' "American Flag" tribute pattern. It arrived Feb 22nd from eBay.
Another Santa Fe Kiwi, this one in Sugilite, also know as Royal Lavulite. It arrived Feb 22nd, from NGK.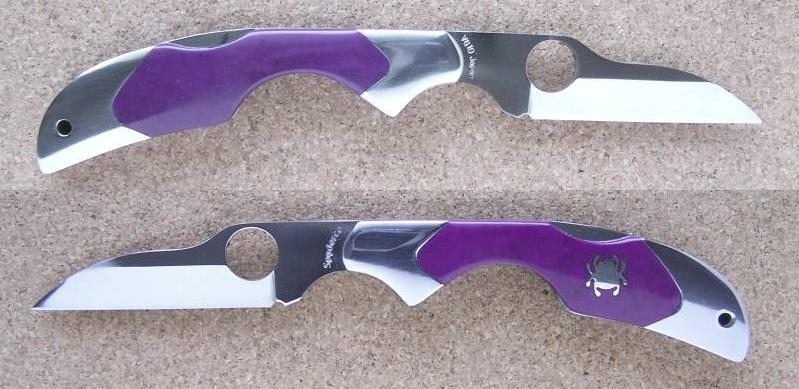 Another Santa Fe Kiwi, this one in Abalone. Very flashy looking. It and the one below arrived Feb 23rd.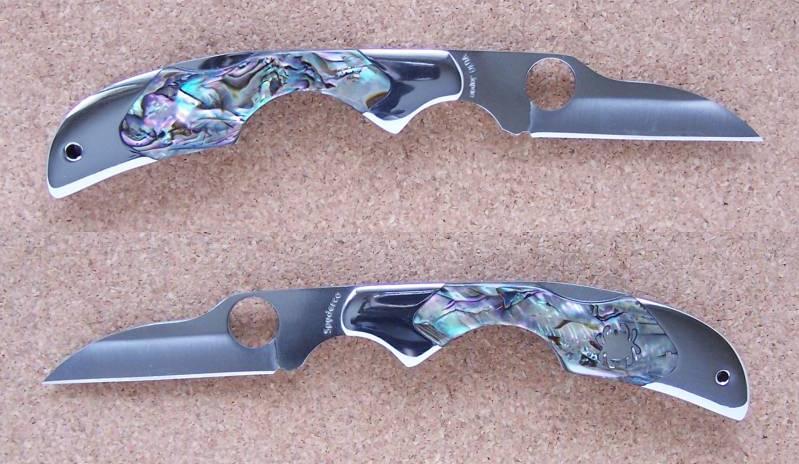 This one is pre-ban elephant ivory, which I supplied. I love ivory because of its quiet, understated elegance. The photos really don't do it justice, the subtle shading of color in it do not show well in them.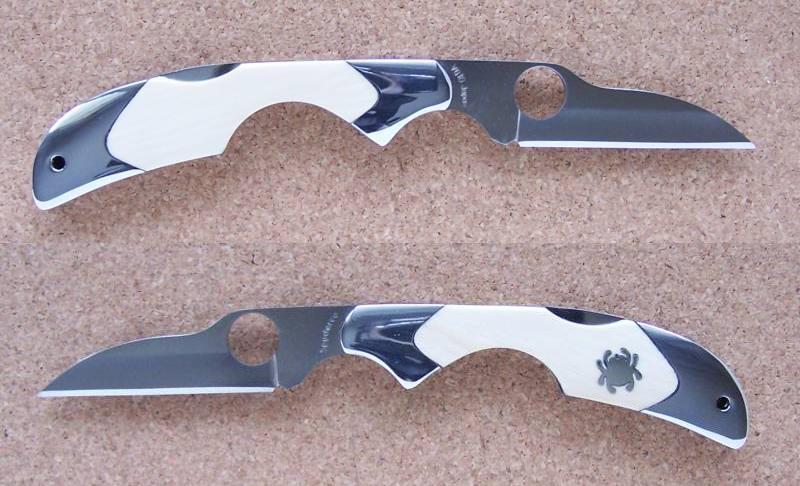 Santa Fe Turquoise Arrived April 20th.


Santa Fe Gaspéite Arrived July 21st. The stone gets its name from the Gaspé Peninsula in Canada, where it is found.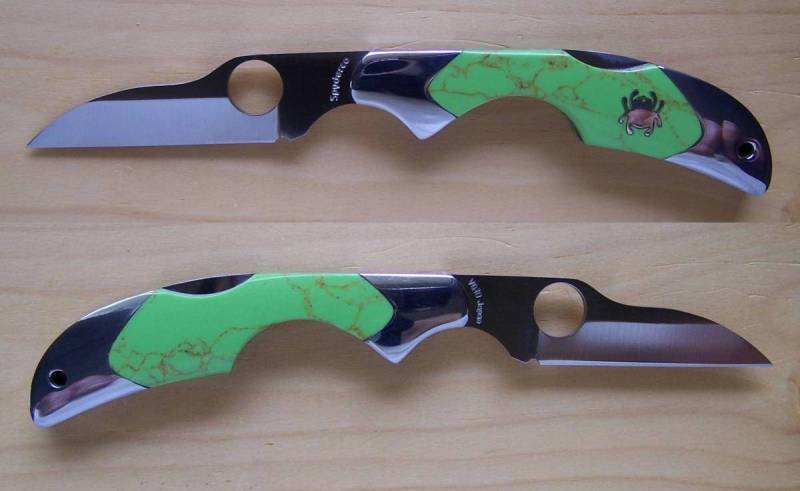 Santa Fe Stoneworks Jet and Mother-of-Pearl "New Graham Knives Exclusive" - Arrived August 21st from NGK.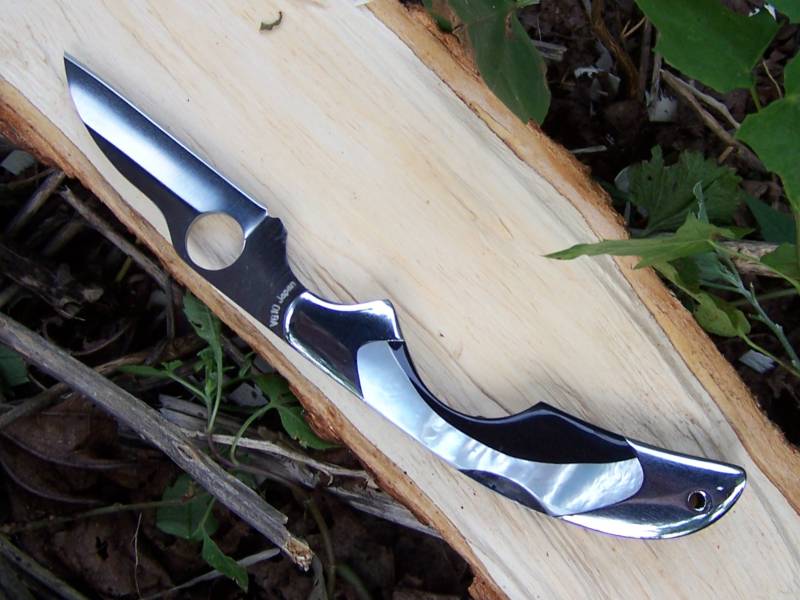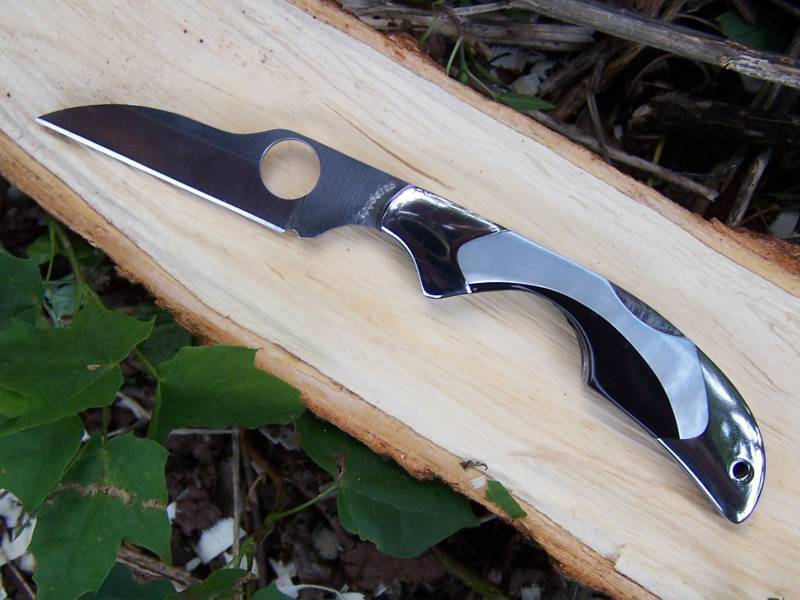 Family portrait of the entire flock, taken February 10th, 2007.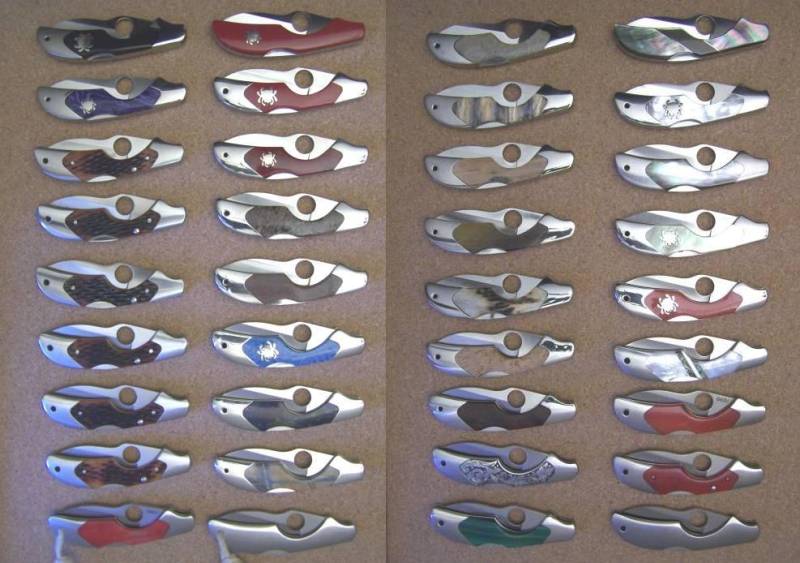 If you are wondering how the Kiwi fits the hand, the photos below should give you a fair idea. I find the grip provided by the deep forward finger choil and the shape of the handle to be both extremely secure and very comfortable.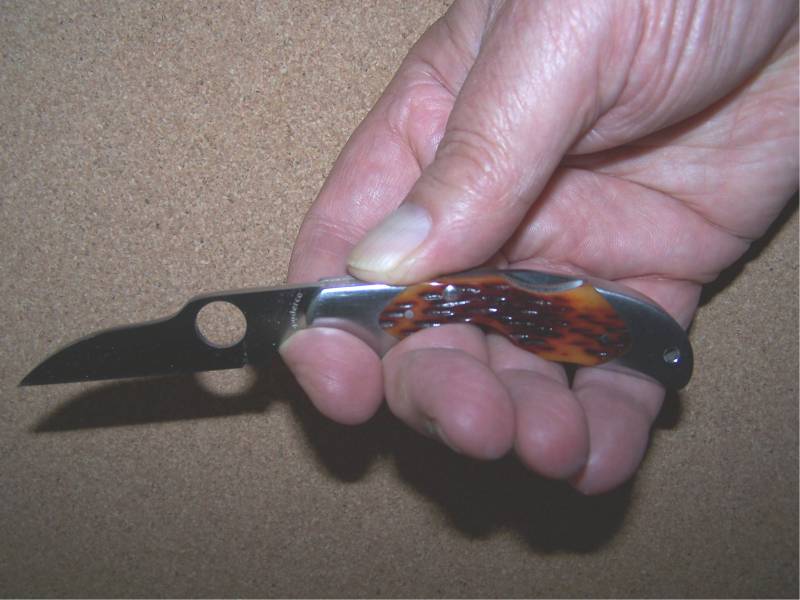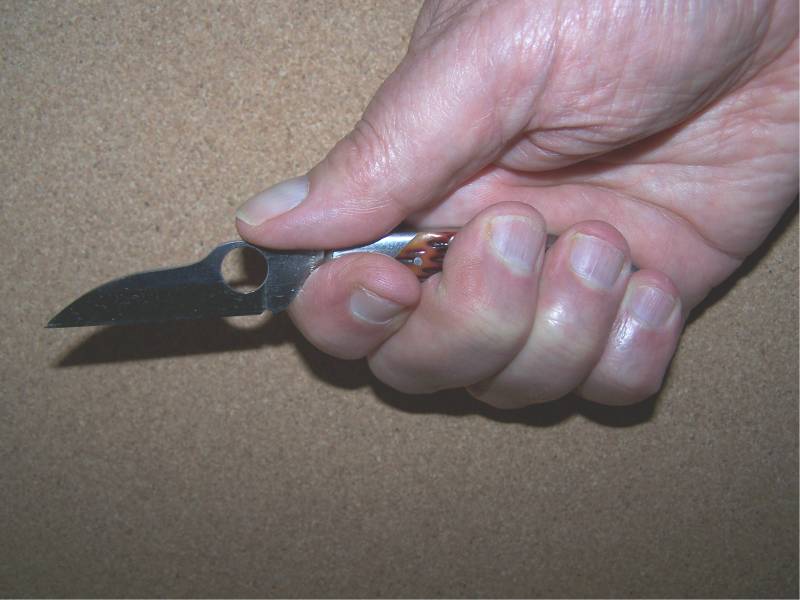 To say the Kiwi is one of my favorite Spydercos is almost an understatement. I love these little guys. They are so addictive, I'm already debating what to challenge Bill and his crew with next. Benign enough looking to use in front of the most faint hearted sheeple without fear on evoking that "deer in the headlights" look of sheer panic that so often follows their viewing of any blade, yet fully capable of performing any of the mundane tasks required of a good "office knife".
The VG10 hollow ground blade comes sharp as a razor from the factory. The straight edge of the Wharncliffe pattern blade and Spanish notch that separates the "working" edge from the unsharpened tang, combine to make maintaining the edge very easy. I'm happy that Spyderco chose to leave their trademark clip off this one, as I think it would spoil the lines and the Kiwi is not really a knife one would elect to carry in situations where rapid deployment might be necessary. I am also very glad they elected not to spoil the smooth flow of the backstrap with a Boye dent. This is, after all, a knife unlikely to be "gorilla gripped".
Fit and finish are excellent, I would rate it just a hair below that of the C27 Jess Horn, which, in my opinion, exhibits the best fit and finish of any factory knife I've ever handled. Considering the price difference, the quality of the Kiwis is absolutely amazing. The actions are all smooth, though a bit heavier than one might expect in a small knife due to a strong lock spring, and the lockup on all is rock solid.
The Kiwis in the pictures below are NOT real, at least not yet. They are merely computer renderings. The first is my ultimate dream Kiwi which would combine a full flat ground stainless damascus blade with no jog ahead of the round hole opener and mammoth bark ivory scales. I hope someday to find a bladesmith willing and able to make it become a reality.

The next is an attempt to see what tortoise shell, or tortoiseshell celluloid, scales would look like. Have suggest this (with the celluloid) as a possible 2007 Spyderco Forum Knife. Rendered it both with and without pins. Doubt the Forum Knife idea will come to pass, but think the material is pretty enough that I probably will get Bill Wirtel and his crew at Santa Fe Stoneworks to make me one,